Meet Dr. Mikael Larsen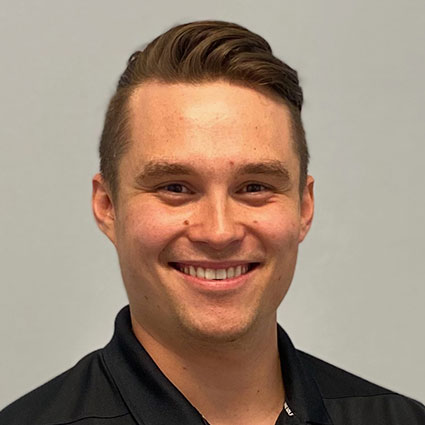 Back in high school, Dr. Larsen was already sure of his future career path. He began taking college classes right away, wanting to get on the right track to becoming a chiropractor. The first encounter Dr. Larsen had with the chiropractor was in middle school, after years of his parents being regular patients. The experience was enough, and he knew it was the right choice for his profession.
Constantly Learning and Growing
During Dr. Larsen's undergraduate years, he contacted Parker University to discuss what he needed to do to get in. The school informed him about their accelerated program, which meant Dr. Larsen could get all his qualifications directly from Parker. At the young age of 23, Dr. Larsen graduated with four degrees:
A Bachelor of Science in Anatomy
A Bachelor of Science in Health and Wellness
A Master of Science in Neuroscience
A Doctor of Chiropractic
A Wealth of Techniques
While completing his education, Dr. Larsen dedicated himself to learning more at every opportunity. His weekends were spent attending conferences and studying under professors and practicing chiropractors. With this constant exposure to techniques and care philosophies, Dr. Larsen has compiled a fantastic toolbox to benefit his patients.
The most important technique he has, Dr. Larsen believes, is loving service. With this as his primary technique, he's in the right frame of mind to assist anyone – even if it's telling them that chiropractic isn't appropriate for their case.
I care about each person I meet, and I'm here to help them.
A Drive to Share Natural Health With Others
Dr. Larsen grew up with exposure to chiropractic as well as the medical-minded side of sick care and taking pills to be healthy. School taught him about how the body works and what you can do to support its optimal function. Chiropractic has transformed his perspective on the body and all aspects of health.
He grew up with parents who were involved in the engineering field and an older sister, and credits his family with where he is today. Dr. Larsen was born in the Dallas area and grew up in the small town of Whitney, Texas. Outside of chiropractic, his main hobby is working out. He has a Black Labrador, Milo, who he takes to local parks or out on runs, and a girlfriend he enjoys spending time with.
Contact Flour Bluff Chiropractic
Find out what your body is capable of. Contact our team now to book your first appointment!
---
Dr. Mikael Larsen | (361) 657-0041